Steve Sjuggerud often recommends John Doody's work and points to his call of a June bottom in mining stocks back in July 2013. Also looking to undervaluation indicator.........more .....
Sjuggerud's review
Doody's Gold Stock Analyst -
Free (old) samples at the bottom of the page. Doody appears to have a fairly limited "universe" of stocks, US listings, and then delivers returns by identifying his Top 10 focus.
Links to the Front Page of Every Monthly report and index of companies reviewed
HERE
GSA's Gold Bottom Call
On page one of the July 1 issue of GSA-Pro, we said Gold's bottom had been seen
in Asia at $1,186 as it rallied to close at $1,235/oz in New York on June 28, 2013.
We believed the bottom was in due to the herd nature of institutional investors.
They piled into Gold as it reached a high in 2011 and after several years of losses,
the "pros" gave up. With negative sentiment at a record high (see chart page 3), they
dumped Gold and Gold stocks from their quarter-end reports to investors to make
their holdings conform to the prevailing anti-Gold sentiment.
We believed the selling cleaned out the weak holders, and the subsequent month
proved us right. As seen in the Chart below, the GSA Top 10 are up +30%, almost
50% more than the main Gold Indexes and almost four times better than Gold's +8%
gain for the period. If we are right, we expect the Top 10 to post a performance
similar to that seen in the lower chart, where the GSA portfolio gained 1,301% and
outpaced the comparative Indexes by five times and Gold by thirteen times.
Doody appears to be smarter than the average newsletter writer, a former economics professor.
This link explains the
key data points and analysis
they go through to assess their preferred miners.
More explanatory detail
HERE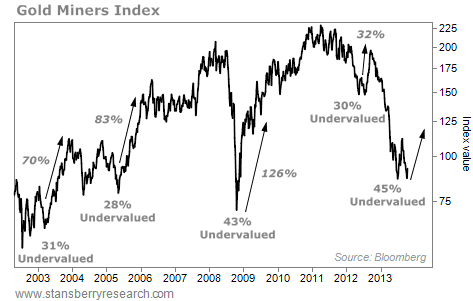 Free Sample company review on Top 10 pick New Gold -
HERE
Companies Reviewed over recent months -
Does not indicate selections and top 10 focus list.
October 2013 • Since 1994 • Issue #233 • Editor: John C. Doody • Single Issue: $249.00
IN THIS ISSUE:
GSA's Top 10 Stocks 2
GSA Stock Data 4-6
Gold: Price, Mkt Indics 7
Reviewed Inside:
Rio Alto 11
Romarco 8
Rubicon 9
SEMAFO 11
Timmons 3
Torex 11
Vista Gold 11
Yamana 12
September 2013 • Since 1994 • Issue #232 • Editor: John C. Doody • Single Issue: $249.00
IN THIS ISSUE:
GSA's Top 10 Stocks 2
GSA Stock Data 4-6
Gold: Price, Stock Indexes,
Market Indicators 7
Mega-Oz Projects
Northern Dynasty 3
Novagold 3
Pretium 13
Seabridge 13
Reviewed Inside:
New Gold 8
Newmont 9&10
Osisko 11
Primero 11
Richmont 12
Randgold 14
San Gold 12
August 2013 • Since 1994 • Issue #231 • Editor: John C. Doody • Single Issue: $249.00
IN THIS ISSUE:
GSA's Top 10 Stocks 2
GSA Stock Data 4-6
Gold: Price, Stock Indexes,
Market Indicators 7
Reviewed Inside:
Golden Queen 8
Golden Star 8
Gold Resource 9
IAMGold 10
Jaguar 16
Kinross 11&12
Kirkland Lake 13
Lakeshore 13
Luna 14
Lydian 14
Newcrest 15
July 2013 • Since 1994 • Issue #230 • Editor: John C. Doody • Single Issue: $249.00
IN THIS ISSUE:
Top 10 Stocks 2
GSA Stock Data 4-6
Gold: Price & Indexes 7
South African Golds
AngloGold 8
DRDGold 9
Harmony 10
Sibanye 9
Reviewed Inside:
Detour 11
Dundee 12
Eldorado 13
Endeavour Mining 12
Gabriel 3
Goldcorp 14&15
Gold Fields 16
June 2013 • Since 1994 • Issue #229 • Editor: John C. Doody • Single Issue: $249.00
IN THIS ISSUE:
GSA's Top 10 Stocks 2
GSA Stock Data 4-6
Gold, Price, Mkt Data 7
Reviewed Inside:
Agnico Eagle 8
Alacer Gold (was Anatolia) 10
Alamos Gold 11
Allied Nevada 9
Argonaut 3
AuRico (was Gammon) 15
Atna 11
Barrick 12-13
B2Gold 10
Buenaventura 14
Centerra 14
Claude 15
May 2013 • Since 1994 • Issue #228 • Editor: John C. Doody • Single Issue: $250.00
IN THIS ISSUE:
GSA's Top 10 Stocks 2
GSA Stock Data 4-6
Gold: Price, Mkt Indics 7
Royalty Earners:
Altius 3
Franco Nevada 8
Royal Gold 9
Sandstorm Gold 10
Silver Wheaton 11
Solitario Expl & Roy 10
Tanzanian Roy Expl 3
Virginia 3
Analysis Inside:
Top 10 Comments 12
Royalty Multiples 12
Small Royalty Earners 13
April 2013 • Since 1994 • Issue #227 • Editor: John C. Doody • Single Issue: $250.00
IN THIS ISSUE:
GSA's Top 10 Stocks 2
GSA Stock Data 4-6
Gold: Price, Mkt Indics 7
Reviewed Inside:
Randgold 8
Romarco 9
Rubicon 10
San Gold 11
SEMAFO 11
Timmons 3
Torex 12
Vista Gold 12
Yamana 13
March 2013 • Since 1994 • Issue #226 • Editor: John C. Doody • Single Issue: $250.00
IN THIS ISSUE:
GSA's Top 10 Stocks 2
GSA Stock Data 4-6
Gold: Price, Stock Indexes,
Market Indicators 7
Mega-Oz Projects
Northern Dynasty 3
Novagold 3
Pretium 13
Seabridge 13
Reviewed Inside:
McEwen Mining 12
New Gold 8
Newmont 9&10
Osisko 11
Primero 11
Richmont 12
Also highlighting the stocks with greatest losses back in May. These will either go bankrupt at low gold prices or be highly leveraged to a gold price rebound



Stock 9/21/12 5/31/13 % Loss
San Gold $1.13 $0.18 -84%
Atna $1.31 $0.22 -83%
Allied NV $39.52 $7.72 -80%
Alacer $7.38 $2.15 -71%
Claude $0.86 $0.26 -69%
Centerra $11.99 $3.68 -69%
IAMGold $16.33 $5.28 -68%
Jaguar $1.23 $0.40 -67%
Golden Star $2.04 $0.70 -65%
Lakeshore $1.01 $0.37 -64%