Brandt suggesting possible end to the 3 year bear
market in precious metals with a
blow off bottom
...........more

"Keep your eyes on the precious metals. Gold and Palladium could be bottoming. A decisive close by Gold above 1180 and then above 1202 would be strong indications that the 3+ year bear market has run its course." (JGMS - close at $1188.5 today - however volume, which Brandt was also looking to be higher than last Friday 7th Nov, was lower on Dec-14 futures and $Gold at stockcharts but higher on GLD (14.169m vs 10.916m)
#GOLD

$GC_F

Advance today, if it holds on high volume, will be sign Gold has seen a blow off bottom.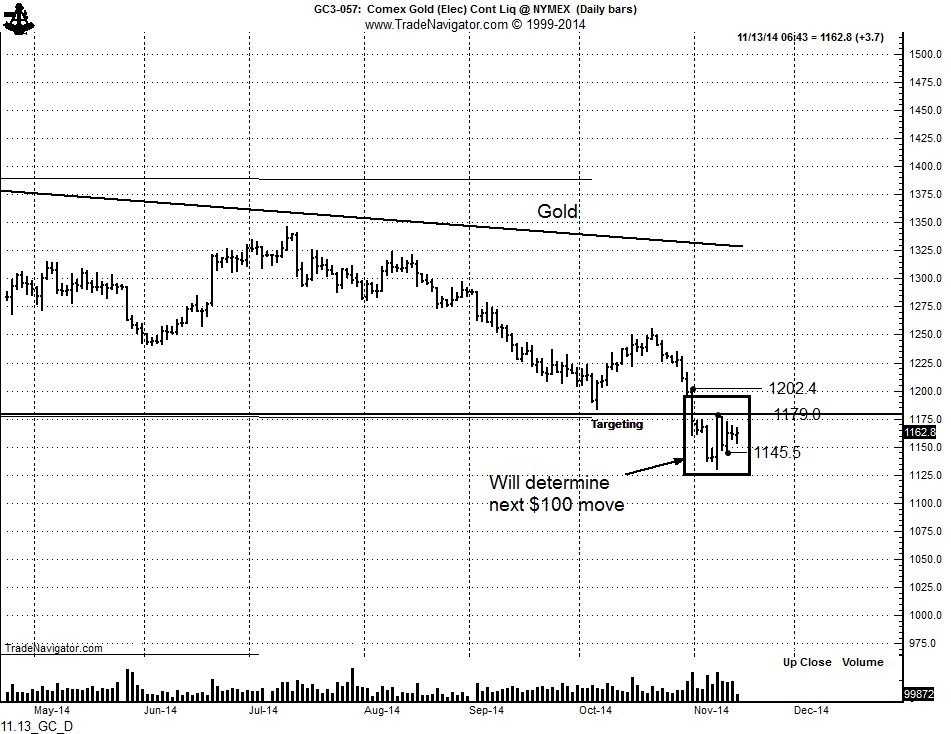 There certainly seems to have been a bearish consensus that gold is going much lower. We could have expected a waterfall decline after the breach of the double bottom at $1180 but that has not come quickly. Armstrong continues to call for much bigger declines.
Brandt interview at Korelin
I think there's a good chance gold has bottomed.... I have been an energy and gold bear.... gold market is very unique, rings a bell at bottom and top....very strong chance early Nov decline was washout of 3 year decline.... support at $1175 -80 very good chance lows will hold .... look in relationship to volume and key chart points. Viewed $1,180 as a crucial level, "should" have led to an immediate sustained decline but did not. Volatility, drive below could have been washout. If close well today, bigger volume than 7th Nov, pull back next week, hold $1175-80, start back up then would say gold has bottomed with fair amount of conviction...... Believe gold is a currency, situations get locked in people's minds, conceivable head much higher in dollar and gold has bottomed aswell, trade each market for its own merit.